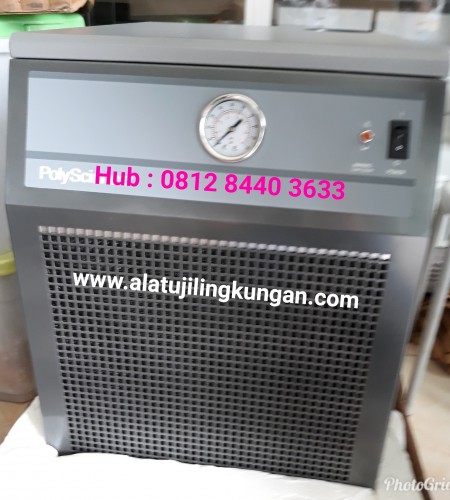 GAS CHROMATOGRAPH, JUAL GAS CHROMATOGRAPH
Update Terakhir
25-05-2023
Dilihat Sebanyak
7.638 kali
Lokasi
Jawa Barat - Depok - Sukmajaya
Spesifikasi GAS CHROMATOGRAPH, JUAL GAS CHROMATOGRAPH
Gas Chromatograph
Type : 910 VGC Chlasic 1 Chanel
Product : Amerika
Description :
The 910V GC is the vertical oven version of the well proven 910 GC (thousands in use), for use with the auto samplers including the:
110 position auto sampler and the HTA 2800T Headspace, SPME and Liquid autosampler.
The 910V can be equipped with any of the 11 detector choices, 12 injector choices, and features a larger column over than the regular 910 chassis.
. Mount up to six detectors and five injectors
. Ambient to 400°C temperature programmable column oven
. Dimensions: 19" wide x 13.5" high x 14.5" deep
. Implement virtually any EPA or ASTM method
The Model 910 series gas chromatograph is very compact next to comparable laboratory GCs from other
manufacturers, it is large enough and flexible enough to perform an amazing variety of applications. See our Pre-
configured GC section for some examples of the 910 adaptability.
The 910 can control up to 16 heated zones, three gas sampling valves, and seven EPC gas pressures. Up to six
detectors, from a choice of 11, can be mounted simultaneously.
The 910 column oven is temperature programmable from ambient to 400°C with unlimited ramps and holds, and fast
cool-down. This airbath oven can hold a standard 7-inch diameter megabore column cage, or multiple columns with smaller coil sizes.
The 910 can be configured to implement virtually any EPA or ASTM method while remaining small enough to ship via
The 910 can be configured to implement virtually any EPA or ASTM
Standard equipment :
Model 910 chassis; ambient to 400°C column oven; On-column injector with carrier EPC; single channel PeakSimple
data system; "at-a-glance" display of temperatures, pressures, voltages, and detector parameters; operator's manual;
accessory kit; and a heavy duty reusable shipping container. To completely configure a Model 910 GC, most users will
need to specify one or more detectors, injectors, and columns. Some users may also need a gas line installation kit for
each gas required (helium, hydrogen, nitrogen, etc.)
Tampilkan Lebih Banyak
.Yth Pelanggan Setia,
ALAT UJI LINGKUNGAN PT. Sitoho Lamsukses sebuah perusahaan swasta Nasional khususnya bergerak dalam bidang Penjualan Alat Monitoring Lingkungan ( ENVIRONMENTAL, HEALTH, LABORATORY & SAFETY EQUIPMENT SUPPLY ).
Sebagai Sole Agen beberapa produk kami mensupply barang, melakukan Uji Fungsi/ Training, Kalibrasi dan juga melayani Service/ Perbaikan Alat yang kami jual.
Pengalaman kami merupakan modal utama dalam mendistribusikan produk seperti :
1. ALAT TEST MAKANAN : FAKTOR FISIK, KIMIA, BIOLOGY
2. ALAT UJI KUALITAS AIR : FAKTOR FISIK, KIMIA, BIOLOGY
3. ALAT UKUR KUALITAS UDARA FAKTOR FISIK, KIMIA, BIOLOGY
4. ALAT UJI KUALITAS TANAH/ SOIL TEST KIT
5. ALAT LABORATORIUM
6. ALAT KESEHATAN
Demikian informasi kami sampaikan
Salam sukses,
Pando

Alat Uji Lingkungan, PT. Sitoho Lamsukses
Komplek Ruko Sukmajaya No. 35
Jl. Tole Iskandar - Depok
HP/ SMS/WA : 0812 8440 3633
website :

www.alatujilingkungan.com


Email :
pando.susanto@hotmail.com
Tampilkan Lebih Banyak
Komplek Ruko Sukmajaya No. 35, Jl. Tole Iskandar, Depok
Jawa Barat - Depok
Login Terakhir

06-06-2023