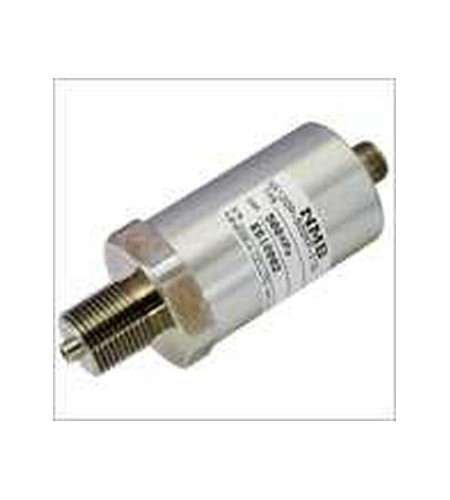 Pressure Sensor : NS100A Series
Update Terakhir
08-07-2017
Dilihat Sebanyak
110 kali
Lokasi
DKI Jakarta - Jakarta Barat
Spesifikasi Pressure Sensor : NS100A Series
Detail Pressure Sensor : NS100A Series
*
Highly accurate pressure transmitter 0.2% R.O. as a standard by SOS technology. including Non-linearity, Hysteresis and Repeatability.)
0.1 % R.O. is also available as a high accurate type.
High reliability and durability by SOS technology.
Can correspond to the absolute pressure and compound pressure
Small size and light weight
Wide range pressure from 200kPa to 50MPa can be measure.
Three kinds ( Cable directly connected type) , ( connector type) and ( terminal box type)
Specifications
Rated capacity 200 kPa ~ 50 MPa
Safe overload 200 % R.C.
Ultimate overload 300 % R.C.
Accuracy 0.2 % R.O. ( including non-linearity, hysteresis and repeatability)
Rated output Current : 4 mA ~ 20 mA ( 2 wires method, Load resistance 500 ohm or less, at 24 V)
Voltage : 0 V ~ 5 V, 0 V ~ 10 V ( Load resistance 5 k-ohm or more)
Response frequency 1 kHz
Power supply voltage DC 24 V( 18 V ~ 28 V)
Power consumption Approx. 20 mA
Insulation resistance 1 000 M or more ( DC 50 V)
Temp. range, compensated -20 ~ 70
Temp. range, safe -30 ~ 80
Temp. effect on zero 0.2 % R.O./ 10
Temp. effect on output 0.2 % LOAD/ 10
Cable 4.7, 2 m shielded cable directly attached,
Cable end separated ( Cable attached type)
Connector R03-RB5F( receptacle) ( Connector type)
Class of protection IP55 or equivalent ( Cable attached type or terminal box type)
IP44 or equivalent( Connector type)
Material of pressure hole Stainless steel
Material of cover Alluminium alloy ( with almite processing)
Material of pressure diaphragm Single crystal sapphire, etc.,
Mounting screw G3/ 8{ PF} , R3/ 8{ PT}
( Please contact us for mounting screw of 1/ 8 and 1/ 4.)
Weight Cable attached type and connector type : Approx. 200 g
Terminal box type : Approx. 400 g
Tightening torque 20 Nem ~ 40 Nem { 2.04 kgfem ~ 4.08 kgfem}
Special specification
NS100A-D6 : Guranteed accuracy 0.2 % R.O. at negative side. Power supply voltage : DC15 V
NS100A-H : As an amplifier part is are separated.( The highest, environmental temperature is 200 )
NS100A-S : IP67 waterproof construction with zero adjustment factor)
NS102 : Pressure inlet port : 10
Kunjungi WEBSITE kami juga di : http: / / timbanganindonesia.com
Kontak Person: Andri, Ibu Sri ( 082 1147 06 170, 0819 3234 5260, 0816 1740 8891, 021-9529 3259, 0816 1740 8926 ( Sri) )
Alamat: Jl. Radin Inten II No. 62 Duren Sawit - Jakarta 13440
Telp. + 62-21 8690 6777, 8690 6771, 8690 6785
Fax : + 62-21 8690 6770
EMAIL : sales@ rajaloadcell.com
Website: www.rajaloadcell.com
Tampilkan Lebih Banyak
Raja Load Cell Indonesia ( Distributor)
Raja Load Cell Indonesia ( Distributor)
Rajaloadcell merupakan Distriburtor sekaligus agen strain gauges , loadcell, transducers dan sensor-based strain gages. Produk Kami Meliputi : - Strain gages or strain gauges ( sensors renganan) - Load cell ( load sensor) - Force transducer, pressure transducer, torque transducer, and other sensors. ( Force sensors, pressure sensors, torsion sensors, other sensors) ( All transducer for measurement applications, pengujiaan, and scales) . Kami menyediakan merek spesialis pengukuran, transduser presisi, Serena sentran industri, loadcells bongshin, sas cadang, sensor sinar matahari, lenniko, sel beban, entran, imada, Lorenz messtechnik, dacell, arpege. masterk, Hangzhou youngzon, laumas, scientech, peralatan adam, instrumen Denver, robotherm, mettler-Toledo, uk berat timbangan, acculab, presisi gram, timbangan hack, acculab, keseimbangan angin utara dan skala, skala diskon, depot keseimbangan, escali, menimbang MTI sistem, teknik transducer, futek, amti, danau sistem penimbangan beras, sendev, sistem penginderaan, mhforce, aldesign, imada, central carolina sisik, elektronik Flexo Dover, Dillon kualitas plus, sensy, bongshin, sistem LCM, sisik davco berat, Asten instrumen , torsi keseimbangan, balanzas, ilmu-tengah, ess, yaohua, flintec, Honeywell, pt global loadcell, danau beras, Fairbanks, sisik kardinal, hbm, futek, gefran, maqtrol, mark-10, interface, metryx, honigmann meter ketegangan, mecmesin , aku-messysteme, alat dj, Kistler-morse, strainsert, lebow, korporasi Hitec, pengukuran industri, himmelstein, ims, Aep, JLW instrumen, nbc, ako, dem, smart sensor, chester Procter, Bolton, unisystem, IMCO, menjejalkan , saksi lanjutan, timbangan elektronik, Toledo transducer, accu balances, Test weights, sistem keseimbangan farmasi, sistem ukur omni, tedea, vishay, Instron, TML, tokyo kokki, meiden, matest, technograph, nmb. Kontak Person: Ibu Wahyuni ( 0816 1740 8926, 0813 8742 8586, 0858 8394 6322, 0878 8397 6262, 0856 9306 1989, 0815 9072 797, 0878 8397 6262) Address: Jl. Radin Inten II No. 62 Duren Sawit - Jakarta 13440 Tel. + 62-21-8690 6777, 8690 6771, 8690 6785 Fax: + 62-21-8690 6770 EMAIL: sales@ rajaloadcell.com Website: www.rajaloadcell.com
Tampilkan Lebih Banyak
Jl. Radin Inten II No. 62 Duren Sawit
DKI Jakarta - Jakarta Barat
Login Terakhir

08-07-2017
02186906777 .86906771 .86906785